Solid state red biphotonic excited emission from small dipolar fluorophores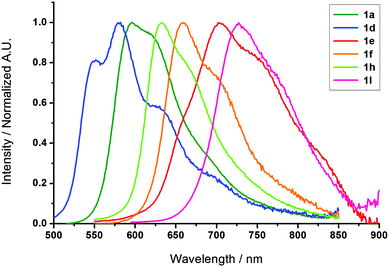 Fluorescence spectra for different structure
Dyes emitting in the solid state in the red or near-infrared range are much sought after for application in bioimaging especially if the long emission wavelength can be combined with two-photon excitation to provide unique contrast and penetration depth. In this article we present a series of small push–pull dipolar fluorophores. If these compounds are weakly emissive in dilute solution, they exhibit aggregation-induced emission properties and exciting solid state emission in the red – near infrared range very different from one compound to another (see Fig.). The solid-state properties were studied by fluorescence spectroscopy and the solid state structures were analyzed by X-ray diffraction showing the presence of a long chain of specific aggregates for the emitting species. Finally, the two-photon excitation properties were measured over the range 780–920 nm directly on the solid.
Solid state red biphotonic excited emission from small dipolar fluorophores
Martin Ipuy, Yuan-Yuan Liao, Erwann Jeanneau, Patrice L. Baldeck, Yann Bretonnière and Chantal Andraud
DOI: 10.1039/C5TC03465E (Paper) J. Mater. Chem. C, 2016, 4, 766-779.