Inauguration of the lab
On the 21st of october, the lab celebrated the inauguration of its new building : all the lab in now located in a single facility. It was the occasion to show the lab activities, the people behind the science and the environment we're working in.
Since april 2018, the three axes of the lab and all the administratives are united in a single place : the M6 building on the ENS de Lyon campus. It's a unique occasion to share our science and skills on an everyday basis. It is also a way to simplify the organization of the lab with all the facilities (spectrophotometers, HPLC, polarimters, NMR, EPR, lyophilizer, ...) now at a hundred meters maximum from your office or lab.
To celebrate this new organization, we invited our main institutions : the ENS de Lyon, the CNRS, the University of Lyon 1, the University of Lyon (UDL) as well as our institutional partners : Solvay, Total, IFPéN, Thalès, our colleagues working at the administration, in other labs (physics, biology, etc) and all the small hands being part of our daily lives. The companies that realized the transformation of the building (and installed fume hoods by the dozen) were also invited.
After a speech by Jean-François Pinton (ENS de Lyon), Jacques Maddaluno (INC CNRS) and Chantal Andraud (Current head of the lab). All the participants were invited to discover some rooms with researchers explaining their daily occupations and their work.
For this special day, Sarah Gautier (a former PhD from the lab) also made a special commisioned artwork to embody all the components of the lab through her own artistic point of view.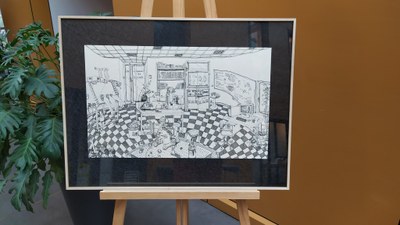 And finally it was also an occasion to meet, discuss and share.