In the Marie Curie Actions, the primary goal of the outreach activities is to create awareness in the general public about the research work performed and its implications for citizens. The type of outreach activities can range from press articles to presenting science, research and innovation activities to students from primary and secondary schools or universities in order to develop their interest in research careers.
Dissemination actions deal more with sharing scientific results, and reaching different stakeholders, the scientific community, the industrial world, and the general public.
Guidelines for Outreach Activities in the FP7 Marie Curie Actions (MCA's) :
Communication EU Research and Innovation, a Guide for project participants :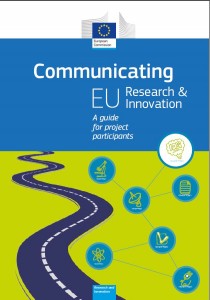 The European Flag :
http://europa.eu/about-eu/basic-information/symbols/flag/index_en.htm
Beneficiaries of a european project should take appropriate measures to engage with the public and the media about the project and to highlight the financial support of the Union.
Any publicity, including at a conference or seminar or any type of information or promotional material (brochure, leaflet, poster, presentation etc), must specify that the project has received research funding from the Union and display the European emblem. When displayed in association with a logo, the European emblem should be given appropriate prominence.
The Use of the EU emblem :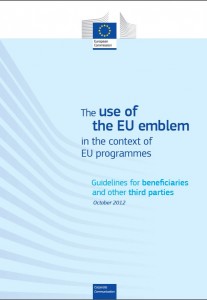 The FP7 logo :
In accordance with the Commission's guidelines on visual identity, all EU programmes must be identified exclusively by the EU emblem and the mention of the programme name.
The FP7 logo has been discontinued from 1 January 2014.
Instead, projects should:
display the EU emblem and
include the following text: "This project has received funding from the European Union's Seventh Framework Programme for research, technological development and demonstration under grant agreement no [Number]".