Publication by the International Research Centre for Infectious Diseases (CIRI).
Abstract
Natural transformation (i.e., the uptake of DNA and its stable integration in the chromosome) is a major mechanism of horizontal gene transfer in bacteria. Although the vast majority of bacterial genomes carry the genes involved in natural transformation, close relatives of naturally transformable species often appear not competent for natural transformation. In addition, unexplained extensive variations in the natural transformation phenotype have been reported in several species. Here, we addressed this phenomenon by conducting a genome-wide association study (GWAS) on a panel of isolates of the opportunistic pathogen Legionella pneumophila GWAS revealed that the absence of the transformation phenotype is associated with the conjugative plasmid pLPL. The plasmid inhibits transformation by simultaneously silencing the genes required for DNA uptake and recombination. We identified a small RNA (sRNA), RocRp, as the sole plasmid-encoded factor responsible for the silencing of natural transformation. RocRp is homologous to the highly conserved and chromosome-encoded sRNA RocR which controls the transient expression of the DNA uptake system. Assisted by the ProQ/FinO-domain RNA chaperone RocC, RocRp acts as a substitute of RocR, ensuring that the bacterial host of the conjugative plasmid does not become naturally transformable. Distinct homologs of this plasmid-encoded sRNA are found in diverse conjugative elements in other Legionella species. Their low to high prevalence may result in the lack of transformability of some isolates up to the apparent absence of natural transformation in the species. Generally, our work suggests that conjugative elements obscure the widespread occurrence of natural transformability in bacteria.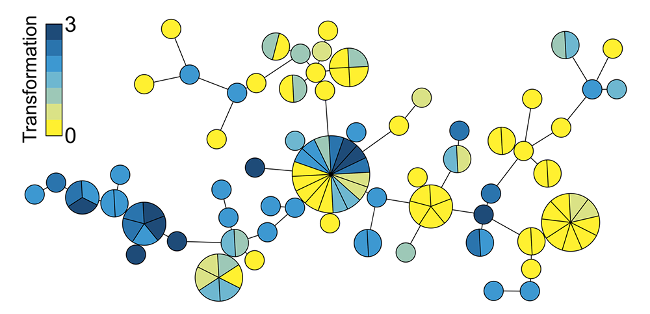 Source: Diverse conjugative elements silence natural transformation in Legionella species. Durieux I, Ginevra C, Attaiech L, Picq K, Juan PA, Jarraud S, Charpentier X. Proc Natl Acad Sci U S A. 2019 Sep 10;116(37):18613-18618. doi: 10.1073/pnas.1909374116. Epub 2019 Aug 27.
Affiliated Structures and Partners